Hi There! Welcome To Life So Blissful!
I'm Mahesha… a hypnotist by profession and an entrepreneur by passion.
I combine the two to help entrepreneurs like yourself get past the mental roadblocks keeping you from reaching your goals.
As someone who runs her own business, I know that being an entrepreneur is no walk in the park. It's a constant swinging between "I'm so lucky to have my own business!" to "Holy crap, I don't know what I'm doing!"
The joy of running your own business is often replaced by the stress and overwhelm that comes with the package. Before you know it, burnout is nipping at your heels.
What if I told you it doesn't have to be this way? That instead of yo-yo-ing between the two extremes, you can find the perfect balance? That you can actually enjoy running your business?
Using Hypnosis to Find the Perfect Balance in Your Professional and Personal Life
Imagine being free of self-doubt, stress, and anxiety.
Visualize feeling excited about getting up in the morning because you can't wait to start working.
Envision a time when everything in your life is perfect. A time when you're at the top of your career and love every aspect of your personal life
Sounds fantastic, right?
Hypnosis can help you achieve all this and more.
That's Great, But What Is Hypnosis, Anyway?
Hypnosis is a highly relaxed state where our subconscious mind opens to receive positive suggestions. It taps into the power of our subconscious mind to get rid of negative beliefs and habits, replacing them with new positive changes.
Think of it this way:
From the moment you are born, your mental clock starts ticking. Your brain records all the events, thoughts, and feelings that constantly shape our lives. It's super receptive to words, impressions, and experiences.
Our subconscious mind is like a super sophisticated computer. At any given time, numerous bits of information are being stored, reviewed and retrieved. We store both positive and negative data. Unfortunately, it's the negative that strongly affects us. As years pass by, all the data in our brain assembles into personal strengths, weaknesses and life scripts.
This subconscious programming ends up defining our lives regarding how we act, react, and make decisions. No matter how hard we try to change our subconscious patterns, it is impossible to do so at a conscious level.
And this is where hypnosis comes in. It allows you to access your subconscious and change things around!
Few Things You Can Work On With Hypnosis
Release anxiety, Improve your confidence and performance , Achieve your goals, Sleep peacefully, Sports Performance, Quit smoking, Release pain, Lose weight, Reduce stress, Get over your fears, Confidently speak in public, Achieve academic excellence, Improve memory, Form good habits, Get rid of bad habits, Improve discipline, Recover memory, Deal with trauma, and Much, much more. However, hypnotists do not treat or cure illnesses or any health issues . And a  Hypnotist will certainly not diagnose your illness. But what you can expect from a professional Hypnotist is to work in unison with your Doctor or Counselor to help you release these mind /body connections.
In case this is your first time "meeting" me, let me do a quick intro;
About The Hypnotist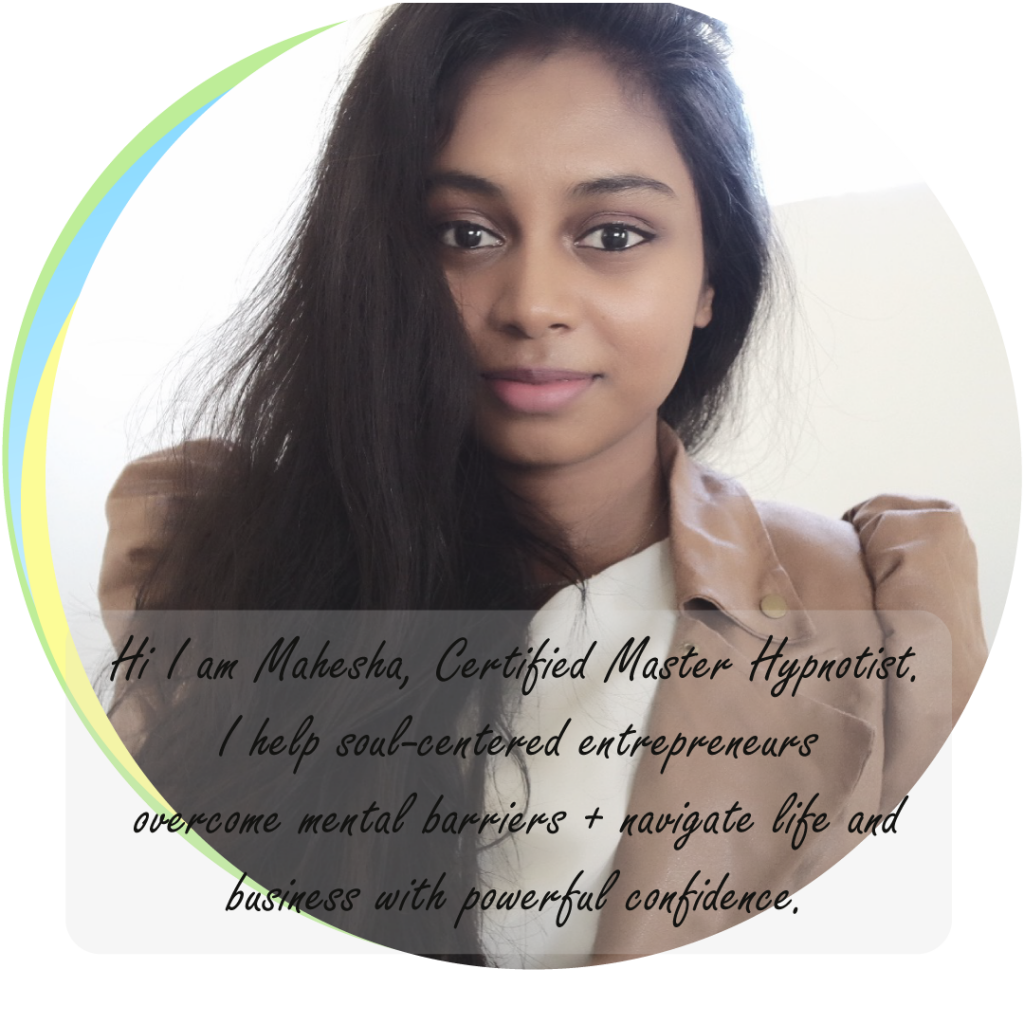 I am a Certified hypnotist and a multi passionate entrepreneur
I have launched successful businesses in a few industries including event planning, jewelry & accessories and holistic health
My educational background lies in business, psychology, and fashion merchandising (yes, I'm one of those people who love school and take up all the degree programs possible. My next aspiration is a PhD in Integral and Transpersonal Psychology.)
My hypnotherapy credentials:

Certified by both the National Guild of Hypnotists and the International Association of Counselors & Therapists
Certified Master Trainer for the International Association of Counselors & Therapists
Certifications & specialties include: Masters Hypnosis Certification, Pain Relief Education Certification, Past Life Regression Certification, Quantum Focusing Educator, Certificate of Specialty in Mind Body Approaches to Pain Relief by the International Medical And Dental Hypnotherapy Association
Over 9 years in private practice helping clients overcome limiting self-beliefs to achieve their highest potential
My Philosophy

I believe …

With hypnosis, we have the possibility to move beyond all the negative emotional baggage we have been programmed with by our parents & other relationships. This means that we can all accomplish whatever our Heart Desires in our mind & body, with the "Power of our Mind." What an incredible possibility!
How Can You Help Me?
With hypnosis, mindfulness and a few other holistic techniques, we can:
Break through blocks
Overcome mental barriers
Let go of past experiences and childhood conditioning
Overcome limiting self-beliefs
Get clear and confident in your business and life decisions
Not be overwhelmed, confused and scared anymore to make the next big move in business and life
Un-paralyze yourself of lack of inspiration and procrastination
Move from fearful and anxious to confident and powerfully passionate
Become 100% confident in yourself and not give a penny about failing or about other people's judgment
Set goals that stick for life and accomplish them with the ease and confidence of a super hero jumping off the tallest towers
Program your subconscious mind to be super successful at everything you do, whether its relationship, school, spiritual life or business life!
Hypnosis For Entrepreneurs:
Being an entrepreneur is not a cake walk. It's a journey of joy and struggle. Relaxation, joy and happiness is often replaced by stress, overwhelm and burnout. This does not have to be so for us small business owners. Running a business, building your dream and following your passion has got to be joyful and bring you bliss.
Being a multi-passionate entrepreneur, I find myself using hypnosis a lot to overcome anxieties, to let go of failures in the past, to release stress, to increase self-confidence, and even to improve creativity and writing skills. Hypnosis has helped me stay motivated and inspired day in and day out. Hypnosis and mindfulness are my top tools to turn to whenever I need a little boost.
With Life So Blissful at your service, now you too can access your subconscious, remove unwanted mental barriers and  program your mind for success & confidence.
Life So Blissful: Navigate Life & Business With Powerful Confidence!
Life So Blissful is a space to learn, grow and expand through alternative holistic therapies. I hope this space becomes your go to site whenever you need a little mind booster to feel confident, powerful and more than anything else, happy!
I often share mind training techniques and free guided hypnosis sessions to help you program your mind to handle anything that is thrown at you with a blissful sense of confidence, so you can enjoy being a small business owner, a girl boss, a super star student and an athlete, like never before.
So, follow along! Let's have some fun!
xo ?

PS: Don't miss out on any of the free soul-tripping goodies I send out to members of the VIP Circle.
By signing up (it's free), you'll get exclusive access to the free Mind Training Resource Library with hypnosis recordings, mindfulness meditations, free downloadable worksheets, eBooks and guides.
You'll also get personal invites to all the group hypnosis sessions and events I host (Trust, me they are pretty sweet).
So don't miss out! Join the VIP Circle right away.
[mc4wp_form id="81″]
PPS: I am so grateful to you from the bottom of my heart and soul for being here and for being a part of the #LifeSoBlissful community. Thank you!!